StateImpact Pennsylvania's most read stories of 2016
A look back at the stories that got the most clicks in 2016.
See you next year!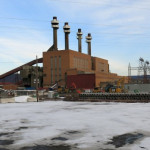 10.
Construction begins on the Sunbury pipeline 
In August UGI Energy Services broke ground on the Sunbury Pipeline, which is expected be in service in early 2017. It begins in Lycoming County and runs 35 miles
 to feed gas into the Hummel Station power plant
, which is under construction at the site of the former Sunbury coal plant in Shamokin Dam, Synder County.
9.
Erin Brockovich speaks about Pa. water contamination
A law firm associated with consumer advocate Erin Brockovich filed a lawsuit early this year behalf of people living in Bucks and Montgomery counties who were exposed to unregulated chemicals in their drinking water.
8.
Township moves to halt gas production, citing anger over royalties
Residents in one of the most drilled-on parts of Pennsylvania took a symbolic step, passing a resolution to try to block companies from producing natural gas amid anger over royalty payments.
7.
The email that led to John Quigley's departure from DEP
Former state environmental secretary John Quigley sent a profanity-tinged email to several environmental groups last April, complaining they hadn't done enough to support new oil and gas rules. When word of the email surfaced a month later in the press, Quigley was out of a job.
6.
Drilling downturn hurts Marcellus industry hard
In 2016 the industry went through a particularly rough patch, as drillers laid off workers and cut spending amid low natural gas prices.
5.
Gas company fined for building pipelines in the wrong place
A natural gas company and a pipeline builder in southwestern Pennsylvania were fined a combined $184,000 for constructing gathering lines outside the bounds of their permits.
4.
Maple trees cut to make way for Constitution Pipeline
A family in Susquehanna County lost their court battle to save their maple trees from eminent domain seizure. The trees were cut to make way for the new Constitution Pipeline, although its construction was later halted when New York State failed to issue necessary water permits.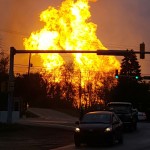 3.
Man severely injured after pipeline explosion
A man was severely burned last April when a major interstate transmission pipeline operated by Spectra Energy exploded near his home in Westmoreland County. Federal regulators found evidence of corrosion on the pipeline, indicating a possible flaw in the coating material used in weld joints.
2.
Sunoco pipeline ruptures in Lycoming County
In October flash floods and landslides in north-central Pennsylvania caused a Sunoco pipeline to rupture, spilling an estimated 55,000 gallons of gasoline into a tributary of Loyalsock creek in Lycoming County. State environmental regulators say preliminary results from downstream testing near Harrisburg showed no detectable levels of contaminants related to gasoline.
1.
Chesapeake Energy pulls up stakes in Pennsylvania and Ohio
Earlier this year one of Pennsylvania's largest natural gas producers, Chesapeake Energy, said it would stop drilling new wells in the Marcellus and Utica plays. 2016 was a tough year for the company, which was frequently fending off bankruptcy rumors. In March, its co-founder and
former CEO died in a car crash
, the day after he received a federal indictment. Current CEO Doug Lawler
recently sat down with a local Oklahoma City TV station
to promote a message of optimism for 2017.
Editor's Picks