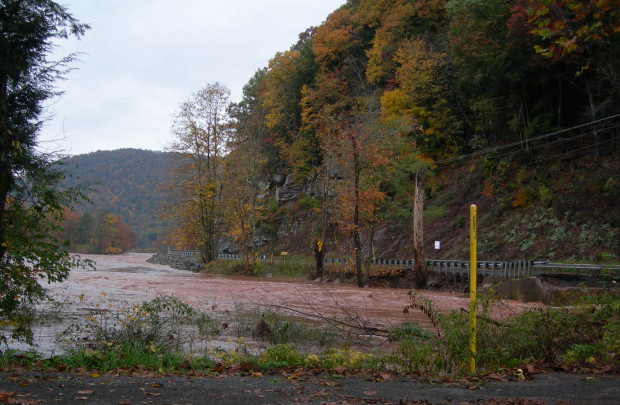 courtesy of Carol Kafer/ Loyalsock Watershed Association
Flash floods and landslides in north-central Pennsylvania have caused a Sunoco pipeline to rupture, spilling an estimated 55,000 gallons of gasoline into a tributary of Loyalsock creek in Lycoming County. Sunoco's control center responded to the rupture at about 3 a.m. Friday morning, after a decrease in pressure was detected and residents noticed a strong smell of gasoline, according to Sunoco spokesman Jeff Shields. The Department of Environmental Protection says it sent staff to the spill in Gamble Township along with local emergency crews, the state Fish and Boat Commission, the EPA, and the Pennsylvania Public Utility Commission.
The DEP says the area is difficult to access safely because of heavy flooding. The agency says the flood waters will have to recede before determining the source of the rupture, which may not be until Saturday as rain is expected to continue. In the meantime, Sunoco had shut down the 8-inch line that runs from Reading to Buffalo, N.Y. Sunoco has taken a lot of heat for its pipelines recently. Local opposition against the Mariner East 2 pipeline has resulted in arrests and lawsuits. Sunoco is also behind the planned Dakota Access pipeline that has drawn international attention for protests by Native Americans. And a recent
analysis by Reuters
of government data on pipeline spills shows Sunoco pipelines leak more often than any other operator, with 200 releases since 2010.