Man injured after pipeline explodes near his home in western Pa.
A man has been taken to the hospital with serious burns after a 30-inch interstate natural gas transmission pipeline exploded next to his home in Westmoreland County. About a dozen homes have been evacuated and a quarter mile evacuation zone remains in place.
Video from the scene
shows a raging fire lighting up the early morning sky. First responders on the scene say the man did not come in direct contact with the flames, but it was the intense heat that scorched him and his home.
The explosion happened at around 8:30 am Friday morning, about 200 yards behind a home in Salem Township, which lies 30 miles east of Pittsburgh. It destroyed that home, torched a field and damaged several homes near by.
Richard Johnston was in his house a quarter mile away. He thought a jet airplane had crashed in the field across from his house.
"We heard a terrible explosion and looked out and saw the fireball all around the place. We grabbed our dog, grabbed our coat and ran," he said. "The heat was too great, you had to leave."
"It was just fire…everywhere you looked," he said. "Debris on fire blowing across the yard here."
Johnston said it was so hot firefighters stayed in their truck and told him his house might have to burn down. As it happened, the house survived, but plastic latticework and siding melted on the side of the house facing the blaze.
Fire officials say the injured man's home was completely destroyed by the flames. His name has not been released and his condition is unknown at this point. He was taken to UPMC Mercy Hospital in Pittsburgh.
"It looks like a bomb went off. As far across my windshield as I could see was just a massive fireball," Forbes Road Fire Chief Bob Rosatti told reporters at a news conference.
"While the fire was contained and gas was shut off—residual gas in the pipeline is continuing to burn," says John Poister, a spokesman for the state Department of Environmental Protection. "A quarter mile evacuation zone is being maintained until further notice."
Four pipelines cross the field where the explosion occurred. A nearby gas storage injection well operated by Dominion has been shut in as a precaution, Poister said.
Johnston said he'd known the pipelines were there, but hadn't paid them much thought.
"It enters your mind," he said. "They're there. I always knew that. I knew something like that's possible."
Creighton Welch is a spokesman for Houston-based Spectra Energy, which owns the Texas Eastern line. He tells StateImpact Pennsylvania he has limited information at this point, but the company has activated its emergency response plan.
"Our first concern is for the safety of the community, our employees, and any others who may be affected," says Welch.
The federal Pipeline Hazardous Material Safety Administration has jurisdiction over the interstate line and has sent an inspector to investigate the cause. Pipeline safety experts say it could be weeks before the cause is known.
PA One Call, the organization that coordinates safe digging near pipelines and underground utilities, reported that a contractor was scheduled to dig in the vicinity of the pipeline explosion this morning. Bill Kiger, executive director of PA One Call, told StateImpact that he doesn't know if the contractor began the scheduled excavation today or not. Spectra Energy released a statement this afternoon confirming only one injured person. Kiger says the pipeline company is known for following the PA One Call rules.
"Spectra Energy is typically a good company to work with," he said.
Over the past decade, Spectra has paid $403,142 in fines related to its Texas Eastern transmission system, according to data on PHMSA's website.
In one case that's still pending, regulators are seeking a $239,200 fine for a May 2014 incident in Greene County, where Spectra failed to administer required drug and alcohol testing for employees after a fire and accidental leak of 1,000 cubic feet of gas that caused $186,437 in property damage.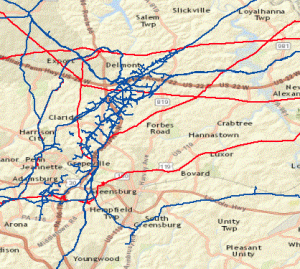 courtesy of PHMSA National Mapping System
The pipeline runs 9,096 miles and carries natural gas from the Gulf Coast to the northeastern U.S. The area of the explosion includes four separate pipelines running parallel in the same right of way, as well as nearby lines that cross each other.
The section of pipe that exploded was built in 1981. Spectra says "an inline inspection in 2012 revealed no areas requiring repair or remediation before the next inspection."
The company did not say when the next inspection was scheduled.
Texas Eastern is one of the largest natural gas pipelines in the country, and the explosion will impact gas supplies across the Northeast. From Bloomberg:
 The company declared force majeure at midday, sending natural gas futures surging as much as 5.6 percent on the New York Mercantile Exchange on speculation that the outage will limit supplies to the Northeast.
The federal Pipeline Hazardous Materials Safety Administration will be assisted with the investigation by the state fire marshall and DEP, which will be investigating any impacts on area gas wells and any environmental impacts from the fire. The National Transportation Safety Board will also participate and release a report.
All interstate transmission pipelines are regulated by the federal government. The Pipeline Hazardous Material Safety Administration recently proposed new rules that would boost safety requirements, including leak detection in urban areas and operator qualifications.
PA One Call's Bill Kiger says pipeline safety can always be improved but there are natural hazards with these lines."You really can't guarantee anything," he said. "There's the freeze and thaw cycles, anything can happen, which is why they should be attempting to put these pipelines at a distance from [occupied] buildings."
PHMSA's latest proposals are open for comment until June 7. Pipeline safety advocates have pushed for even more stringent regulations. Pennsylvania's current pipeline building boom has meant greater scrutiny on new pipeline projects, as well as the thousands of miles of older pipelines. Lynda Farrell is the executive director of the Pipeline Safety Coalition and the Mayor's Council on Pipeline Safety.
"Every time there is an explosion, every time there is a spill, the public is so highly in tune with pipeline infrastructure development that it becomes another source of angst, another source of fear," she said.
Farrell says her organization has pushed for mandatory shut-off valves that would halt the gas flow if there were an explosion but PHMSA has not proposed that new rule.
Westmoreland County is not immune from the latest round of new pipelines. Construction on Sunoco's Mariner East 2 and 2x is expected to begin this summer. Spectra Energy has a number of new pipeline projects in the state, including the Marcellus to Market, an expansion of the Texas Eastern line, and the Greater Philadelphia Expansion line, which will run through Chester and Delaware counties.
Note: This story has been updated. This story originally quoted a DEP official as saying the PUC was the lead on the investigation, it's not, PHMSA has jurisdictional authority. More updates will be posted as they become available.
Editor's Picks