Sunoco gas pipeline ruptures in Lycoming County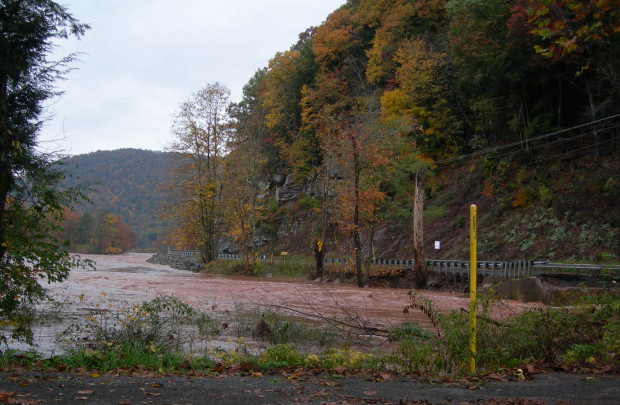 courtesy of Carol Kafer/ Loyalsock Watershed Association
Flash floods and landslides in north-central Pennsylvania have caused a Sunoco pipeline to rupture, spilling an estimated 55,000 gallons of gasoline into a tributary of Loyalsock creek in Lycoming County. Sunoco's control center responded to the rupture at about 3 a.m. Friday morning, after a decrease in pressure was detected and residents noticed a strong smell of gasoline, according to Sunoco spokesman Jeff Shields. The Department of Environmental Protection says it sent staff to the spill in Gamble Township along with local emergency crews, the state Fish and Boat Commission, the EPA, and the Pennsylvania Public Utility Commission.
The DEP says the area is difficult to access safely because of heavy flooding. The agency says the flood waters will have to recede before determining the source of the rupture, which may not be until Saturday as rain is expected to continue. In the meantime, Sunoco had shut down the 8-inch line that runs from Reading to Buffalo, N.Y. Sunoco has taken a lot of heat for its pipelines recently. Local opposition against the Mariner East 2 pipeline has resulted in arrests and lawsuits. Sunoco is also behind the planned Dakota Access pipeline that has drawn international attention for protests by Native Americans. And a recent
analysis by Reuters
of government data on pipeline spills shows Sunoco pipelines leak more often than any other operator, with 200 releases since 2010.

Several area towns have had to shut off or alter their drinking water sources and some area residents have been encouraged to conserve water. Lewisburg resident Carol Parenzan says she was contacted by her local water company, Pennsylvania American Water, Friday afternoon with a notice about the spill, asking customers to conserve water.
"We're definitely experiencing more extreme weather events and we have aging infrastructure and here's a perfect example," said Parenzan who is executive director of the Middle Susquehanna Riverkeeper Association. "We need to stay up to date on the age of this infrastructure and its condition."
Parenzan says the same pipeline was exposed to flood waters when a nearby road caved in back in 2011 during Tropical Storm Lee. The pipeline was originally built in 1937, according to Sunoco spokesman Jeff Shields. He says the sections in the area of rupture were replaced in 1992 and 2011.
Carol Kafer, president of the Loyalsock Creek Watershed Association posted photos of the rupture on Facebook. She also described what she saw:
"When I went outside this morning, the air was so full of petroleum fumes that I could taste it," Kafer wrote. "When I took these photos around 8:30 am this morning, the air in the area was still rank with petroleum fumes. Bottom line:  Fuel lines should not be placed near or under streams in mountainous areas that flood violently.  Two mishaps in 5 years is not acceptable."
PA American Water also reached out to its commercial customers to conserve and DEP reports it may have closed its intake. The DEP says Shamokin Dam Borough closed its intake as a precaution and may use water from Aqua PA.
Sunoco Logistics emergency crews say they plan to use skimmers to remove the gasoline from the surface and containment booms downstream. The company says its meeting with impacted residents, who can contact a representative at 800-759-5644.
Editor's Picks