StateImpact Pennsylvania's most read stories of 2015
A look back at the stories that got the most clicks from our online readers in 2015:
See you next year!
10. Marcellus Shale production numbers break another record
In the past few years Marcellus production numbers have kept breaking records, until this year, when things started to stall a bit, as companies cut back in the face of low prices and oversupply.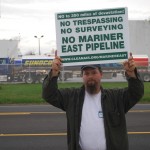 9. Sunoco launches eminent domain proceedings for Mariner East 2 pipeline
As Sunoco Logistics steps up efforts to create a pathway for its Mariner East 2 natural gas liquids pipeline across southern Pennsylvania, some landowners are fighting to keep it off their properties. Individual eminent domain cases are still working their way through the courts, but the company recently scored a victory in Cumberland County.
8. Pipelines' paths remain a risky mystery beneath our feet
Everyone wants to know where all the new Marcellus Shale gas pipelines are or will be. The new proposals have been piling up. But even though companies know the routes, they aren't required to share that information with the public.
7. Pipelines: The new battleground over fracking
Pennsylvania's pipeline building boom could expand the nation's and perhaps the world's, supply of natural gas. In 2015 the controversy over these projects took center stage.  Governor Tom Wolf created a new task force to examine the impacts, while landowners resisted development on their properties and protesters were arrested.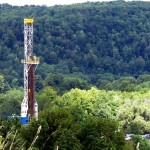 6. Large reserve of Utica Shale gas could lie beneath state forest 
Several successful test wells in the Utica Shale (which lies beneath the Marcellus) have shown there could be a lot more untapped gas underfoot. One of these wells was under state forest land, in Tioga County. If gas prices rise and pipelines make their way to that remote region of the state, the Utica may prove to be a lucrative way to generate more money for the state.
5. Mystery over radioactivity in Western Pa. stream
A watershed group in Greene County raised concerns after finding elevated radioactivity in a creek that flows into the the Monongahela River–a major source of drinking water in western Pennsylvania. There was speculation it could be associated with illegal dumping of fracking wastewater, but the Department of Environmental Protection recently said its own initial testing was flawed, and there is no danger.
4. Police and gas industry share intelligence on activists
Documents obtained by StateImpact Pennsylvania and other news outlets reveal law enforcement here (and in other parts of the U.S. and Canada) work with the oil and gas industry to monitor potential threats to infrastructure, which can include conducting surveillance on activists.
3. Worker dies in accident at Sunoco's refinery
Earlier this year 49-year-old Jeffrey Shannon of Maple Shade, New Jersey died at the Sunoco Logistics plant in Marcus Hook. He worked for AECOM, a large global engineering firm contracted to convert the plant into a gas processing facility. The federal Occupational Safety and Health Administration fined AECOM $14,000 for the incident, citing serious violations. The company has challenged the sanction.
2. What happened to 160,000 fracking jobs? 
In 2015 Pennsylvania lost 160,000 jobs in the gas industry– on paper anyway. Under newly-elected Democratic Governor Tom Wolf, the state Department of Labor changed how it counts the jobs. Wolf's Republican predecessor, Tom Corbett, often touted a much higher number. Both industry boosters and the anti-fracking crowd seized onto this story, and saw it as politicians' attempts to enhance or diminish the gas industry's role in the economy. However, independent economists say the new figures are probably more accurate.
1. Bringing 400,000 tons of drilling waste to Pa.'s 'Grand Canyon'
Plans to put gas industry waste near Pennsylvania's pristine Pine Creek Gorge sparked a major backlash this year. Shortly after StateImpact Pennsylvania reported on the project, the company behind the proposal withdrew its permit application.
Editor's Picks