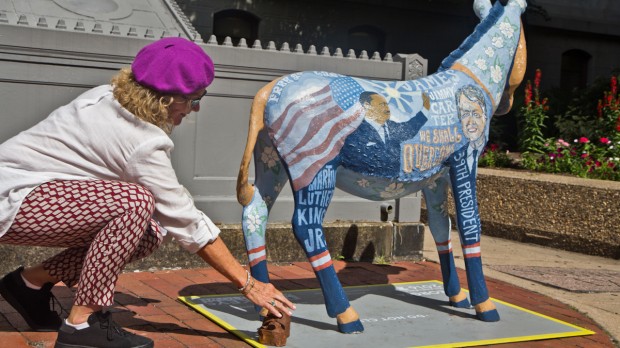 Kimberly Paynter/WHYY
The Democratic Party's draft platform, advanced by a committee last weekend, calls for a tax on carbon and other measures to tackle climate change. It also calls for a "phase down" of drilling on public lands.
However, that's not enough for some environmental groups, which have called for a nationwide ban on fracking.
To protest what they feel is lacking in the Democratic platform, members of Food and Water Watch placed placed piles of papier-mâché poop beneath 19 of the 57 painted donkey statues set up around Philadelphia to welcome delegates to the Democratic National Convention here in two weeks.
In order to make sure the conventioneers got the message, they also spray painted the sidewalk  with "No ban on fracking, the Dem platform is crap."