Background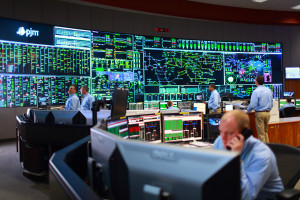 courtesy of PJM
The electric grid is a network encompassing power plants, power lines and related infrastructure designed to produce and transmit electricity.
Pennsylvania is a part of the PJM Interconnection, which operates the grid across parts of the Mid-Atlantic and Midwest. PJM coordinates the flow of electricity to ensure the supply always matches demand. It does not own coal plants or wind farms — that's the role of utilities and other energy companies. But PJM directs these power generators to switch on or off based on how much electricity is required to balance the grid at any given moment.
Each generator offers electricity at a particular price to PJM, and the operator chooses whether to accept those bids. It dispatches generators, starting with the ones offering the cheapest bids, until supply matches demand.
As a result, electricity flows from generators over high-voltage transmission lines, often crossing state lines to get where PJM directs it to go. When it reaches a utility's substation, the electricity is carried on local distribution lines into consumers' homes and businesses.
Consumers purchase electricity from local utilities, some of which also own generators. The Pennsylvania Public Utility Commission regulates this retail side of the electric grid.