Judge approves deal to step up water protection during Sunoco pipeline construction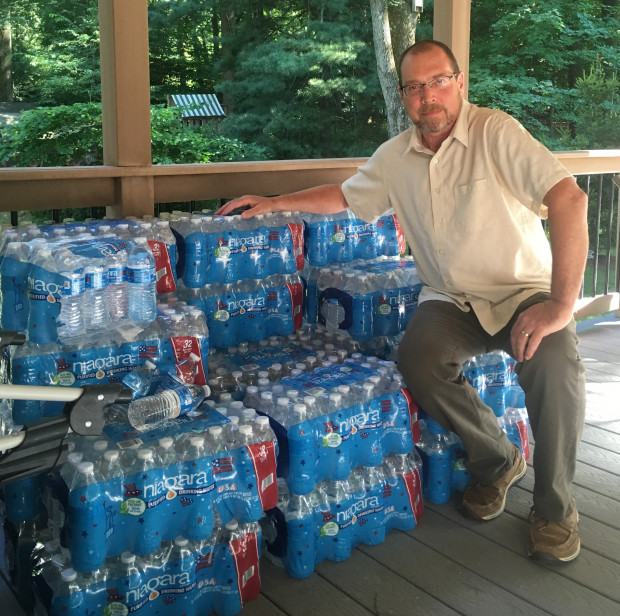 Jon Hurdle / StateImpact PA
A Pennsylvania judge on Wednesday approved an agreement between Sunoco Pipeline and three environmental groups, requiring the company to step up its protection of water supplies during construction of the Mariner East 2 pipeline.
Judge Bernard Labuskes of the Environmental Hearing Board signed off on the deal, which was first published Tuesday in response to settlement talks by the two sides.
The company agreed to do more to protect private water wells, some of which have been damaged by Sunoco's drilling for the $2.5 billion cross-state pipeline. Sunoco also agreed to give nearby landowners 10 days' notice of its plans to drill; to test their water, and to re-evaluate the geology of the sites to prevent more spills of drilling fluid.
In return, the environmental groups withdrew a court challenge that sought to extend a ban on drilling that was ordered by the judge last month in response to dozens of water-contamination incidents.
Alex Bomstein, an attorney for Clean Air Council, which led the environmentalists' action, said the deal strengthens protections for people along the 350-mile pipeline route.
"This is a good agreement that will ensure additional protections that weren't in place before, and protections for the environment as well," Bomstein said.
But the agreement won't stop a separate appeal by Bomstein's group, plus the Delaware Riverkeeper Network and Mountain Watershed Association, against pipeline construction permits issued to Sunoco by Pennsylvania's Department of Environmental Protection.
"We will continue to work to make sure that these permits, which were wrongly issued in the first place, are ultimately revoked," Bomstein said.
Sunoco welcomed the agreement and said it will allow the company to proceed with the horizontal directional drilling that was halted by Judge Labuskes in late July.
"We will continue to adhere to the strict conditions of our permits, including the enhanced standards for planning, outreach and reporting. The agreement will put hundreds of workers back on the job as we complete this transformational infrastructure project," the company said in a statement.
The new requirements on Sunoco may add to delays for a project that has been plagued by legal and technical challenges, and repeated demands from state regulators for information that would allow permits to be issued. The DEP issued the final permits in February, allowing Sunoco to start construction.
On Wednesday, Tom Long, Chief Financial Officer for Sunoco's parent, Energy Transfer Partners, said the project is now scheduled for completion in the fourth quarter of this year, back from the third-quarter target previously stated by the company.
"We do expect to have it in service sometime in the fourth quarter," Long said during a call with financial analysts on ETP's second-quarter earnings.
Long said about 80 percent of the pipeline has been "strung" – in which sections of pipe are laid end-to-end in preparation for welding – and 70 percent has been welded. More than half of the pipeline has been lowered into trenches and back-filled, he said.
The pipeline will carry propane, ethane and butane from the Marcellus Shale of southwestern Pennsylvania to a terminal at Marcus Hook near Philadelphia where most of the natural gas liquids will be exported to Europe.
Editor's Picks