In Pa., climate change threatens the state tree, bird and fish. Work is under way to help the native species
Work is under way to help the native species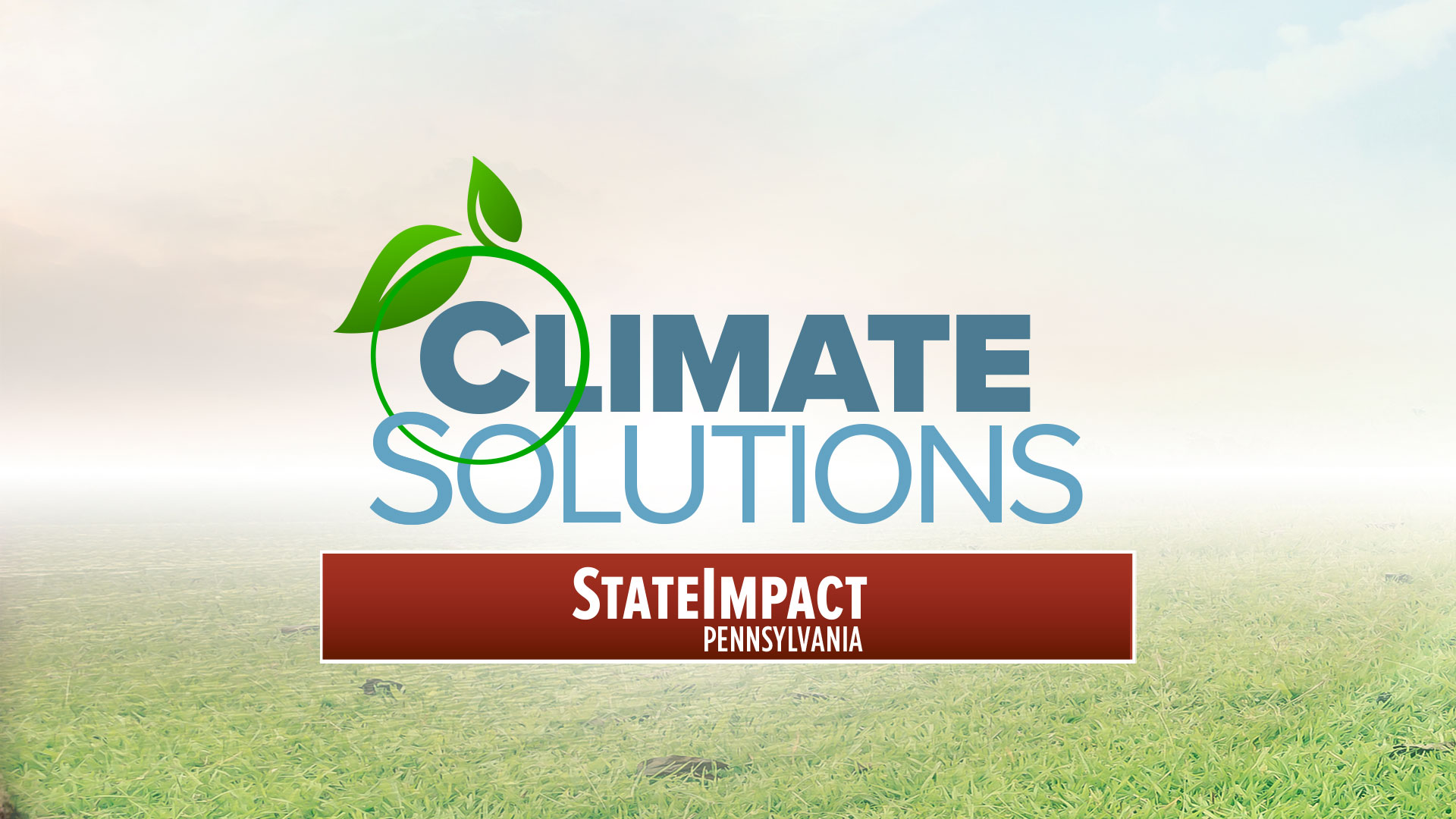 This story was produced as part of Climate Solutions, a collaboration focused on community engagement and solutions-based reporting to help Central Pennsylvania move toward climate literacy, resilience and adaptation. StateImpact Pennsylvania convened the collaboration; WITF is a Climate Solutions partner.
Under a clear blue sky, feathery eastern hemlock branches gracefully extend over a crystal-clear stream. A silvery brook trout leaps to the surface, and in a meeting of icons, the state fish emerges from the watery shadows cast by the state tree. 
The surrounding woods are home to the elusive state bird, ruffed grouse, as well as the ubiquitous state animal, white-tailed deer. 
This location, aside the meandering Little Fishing Creek, along the backbone of Nittany Mountain, is within Bald Eagle State Forest in Centre County. It's a typical scene across Pennsylvania.  
On the surface, it appears idyllic. But a closer look reveals the presence of numerous invaders. Experts say climate change is fueling and favoring the growth of invasive species—in many cases, at the expense of Pennsylvania's cherished symbols. But environmental workers are trying to help those Pa. icons by discovering ways to reverse invasive species' effects.  
Setting the scene 
It sounds like a gunshot, says Jim Altemus, a forest health program specialist with Pennsylvania's Department of Conservation and Natural Resources.
"You hear a big crash, you look over, and there's a tree—you see it bouncing off the ground, and there's not a breath of wind. Woah," said Jim Altemus, a forest health program specialist with Pennsylvania's Department of Conservation and Natural Resources.

He's describing the sound of a giant hemlock, 200 years old or more, falling and triggering sharp, cracking echoes through dense, old-growth forests. 
One of Pennsylvania's most damaged areas of hemlocks are in the Alan Seeger Natural Area in Rothrock State Forest in Huntingdon County.
One of Pennsylvania's most damaged areas of hemlocks are in the Alan Seeger Natural Area in Rothrock State Forest in Huntingdon County.
It could be the sound of climate-related damage.
Hemlocks are especially hard-hit in Snyder-Middleswarth Natural Area, Snyder County, within Bald Eagle State Forest; and Alan Seeger Natural Area, Huntingdon County, in Rothrock State Forest, where a mile-long loop trail includes a wayfinding sign explaining how a tiny invasive species — aided by a warming, wetter climate — is bringing the mighty trees down. 
"The biggest threat to our forests from climate change is the expansion of Hemlock Woolly Adelgid (HWA), because HWA responds well to a warmer climate," said Meredith Seltzer, a DCNR forest program specialist. 
Climate change and Pennsylvania
There's overwhelming scientific evidence that human activity is warming Earth at an unprecedented rate. It's already responsible for extreme weather, rising sea levels, and more severe droughts worldwide. Pennsylvania is on track for more intense heat waves and stronger storms in coming years, the Department of Environmental Protection says.
Scientists stress that rapid action is crucial to avoid the worst effects. Pa.'s most recent Climate Action Plan calls for an 80% reduction of greenhouse gas emissions by 2050, compared to 2005 levels.
Doing that will require hard choices by the nation's fourth-largest carbon emitter: Pennsylvania must figure out how to cut emissions while planning for the future of people and communities that rely on the fossil fuel industry.
Join the discussion about climate and Pa. at Climate Solutions.
At Alan Seeger Natural Area, giant evergreens, once graceful sentinels, are awkwardly strewn across the forest floor, in varying stages of decomposition, or dangling mid-air, often entangled with neighboring trees. Patches of sky reveal gaping holes in the tree canopy where hemlocks once stood.  
Many are victims of HWA, an insect native to Asia, first found in Pennsylvania in 1967. Tiny white woolly egg sac "balls" on the soft underside of needles are evidence of the insects' presence. Their damage isn't visible: The adelgid attaches to the base of a hemlock needle, and, over seasons, sucks a tree's sap and nutrients. Left untreated, Altemus said, hemlocks weaken and die within five to 10 years. 
That timeframe opens a window of opportunity.
"HWA takes so long to kill the tree, it gives you the chance to do something, to try to get a handle on it." 
Tall task 
DNCR is taking two approaches: chemically treating specific trees – a tall task within state forests – and releasing "good" predatory insects or fungi that eat the adelgids.
At Alan Seeger, DCNR staff last treated hemlocks in 2017, targeting the most prominent trees — those measuring at least 20 inches in diameter standing along roadways, the loop trail and shading picnic areas. Six years later, the treated trees appear to be standing strong.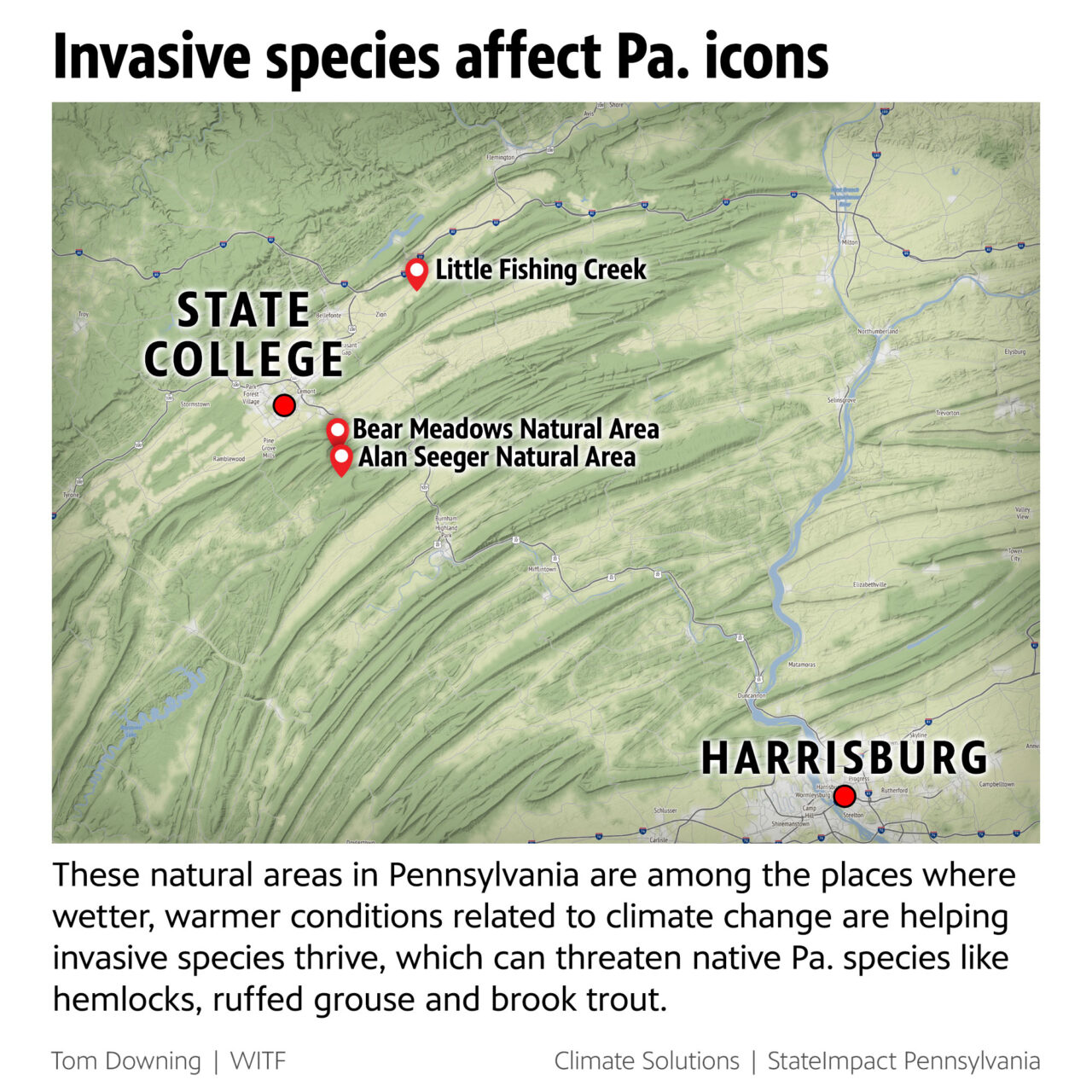 "They have found treatments of HWA are lasting longer than expected," Seltzer said. "The area had prolonged cold below zero degrees for 10 to 14 days for a couple winters after the 2017 treatment, which has helped control the HWA." 
This year, DCNR forest health specialists are shifting their focus to treatments at another hard-hit area of Rothrock State Forest — Bear Meadows Natural Area — while continuing to monitor hemlock health at Alan Seeger. 
In addition to HWA, Pennsylvania's foresters are also fighting the spotted lanternfly and spongy moth (previously called the gypsy moth) — additional invasive insects thriving amid climate change's warmer, wetter conditions.  
Jim Altemus, a forest health program specialist with Pennsylvania's Department of Conservation and Natural Resources, left, and Meredith Seltzer, a DCNR forest program specialist, in Bald Eagle State Park.
Meredith Seltzer, a DCNR forest program specialist, points to spongy moth egg sacs in Bald Eagle State Park.
"If you already have an unhealthy forest with HWA and other forest pests, then climate change exacerbates the problems through extreme temperatures and precipitation, adding more stress to the forest," Seltzer said. 
Ripple effect 
When one native species like hemlocks suffers, there's a cascading impact on its habitat.  
"Hemlocks' major value is in shading our streams and keeping streams cool," Seltzer said. 
Brook trout, Pennsylvania's state fish and only native trout, is a cold-water species that can't survive in water temperatures above 68 degrees, according to Jason Detar, an area fisheries manager with the Pennsylvania Fish and Boat Commission. Brook trout play an essential role in their habitat. In Pennsylvania, that's 4,000 miles of cold-water streams. 
Jim Altemus, a forest health program specialist with Pennsylvania's Department of Conservation and Natural Resources (DCNR), looks for signs of Hemlock Wolly Adelgid in Bald Eagle State Park.
"When we have healthy brook trout populations, then we know there are likely healthy aquatic ecosystems within those streams," Detar said. "We also know that brook trout occur in healthy headwater streams, which are important to maintaining healthy downstream communities — we all need clean drinking water." 
Studies show brook trout thrive in watershed environments comprised of at least 75% forest, Detar said. Areas with higher urbanization, agriculture or mining offset that balance, as does damaged forestland. Potential decreases in tree canopy come at a time when shade is more essential than ever, considering climate change's warming trends. All of these factors leave conservation experts wondering how brook trout will fare.
"This is a huge question within all of natural resource management right now," Detar said. "And it's uncertain because the decisions being made currently will drive what the ultimate impact is from climate change. But certainly, our cold-water species will be more impacted by climate change." 
Detar said fish populations in peril are obvious indicators of rising temperatures — so water temperature monitors aren't regularly used in Pennsylvania. However, a network of stream temperature monitors is "actually something being discussed and possibly pursued across the eastern range from Maine to Georgia, to track water temperature changes over time," he said. 
Elevation and other factors influence water temperature, making it "complex as a monitoring network," although Detar said "it may be an early indicator" of potential cold-water species loss. 
To help Pennsylvania's brook trout, the state is working to improve riparian buffers, which are corridors of vegetation along stream banks. They reduce runoff and help — along with hemlocks — to shade streams. 
"Maintaining and improving riparian buffers aren't a cure-all, but they are absolutely critical in maintaining cold-water fish populations," Detar said. 
Nowhere to go 
Pennsylvania's state bird, the ruffed grouse, is tied to its habitat just like the brook trout. They don't migrate and have a "relatively small home range of about 50 acres where they live for their whole life," said Reina Tyl, a wildlife biologist and grouse specialist with the Pennsylvania Game Commission. 
Ruffed grouse live  primarily on the ground, where they build their nests, and roost in trees at night. Once common, they are now seldom-seen. There are several factors, Tyl said, diminishing their numbers. Most are climate change-related. 
"Ideally, when snow conditions are right, grouse bury themselves in snowpacks to sleep, to save energy — like being in an igloo," Tyl said. "But if we have less snowfall, they're not able to snow roost, and they have to roost in trees." 
That exposes the birds to the cold and to predators such as hawks. 
Already-observed increases in Pennsylvania's precipitation are creating several scenarios attributed to a decline in grouse population. First, wetter conditions are thought to aid predators in sniffing out and finding nesting hens. Tyl likened the scent of wet birds and feathers to "wet dog smell." Wetter spring weather can also cause hypothermic conditions for newly-hatched chicks. And more rain means more mosquitoes. 
"Grouse are very susceptible to West Nile Virus, which is transmitted by mosquitoes. And during wetter summers, we tend to see more disease years," Tyl said. "Grouse being continually hit year after year can knock back their numbers." 
Tyl tracks population trends using several indexes provided by grouse hunters — what's called the fall hunter flush rate, plus harvest numbers that are estimated via hunter surveys. 
The harvest rate was over 100,000 in the early 2000s, but fell to 8,800 in 2020 and 6,200 in 2021. While those numbers are also affected by fewer grouse hunters, Tyl said they were concerning enough for the game commission to cancel second, late hunting seasons for grouse since 2017. 
Mosquitoes — although not invasive species — are disease-carrying and more prolific under warmer, wetter conditions attributed to climate change.  
"We've been trying to better understand mosquito population dynamics — where mosquitoes are most common on the landscape and ways that we can influence mosquito populations," Tyl said.  
What the game commission has learned, through trapping the insects on state game lands at varying elevations, is this: The higher the elevation, the lower the mosquito population — especially for the two species that are the most common vectors of West Nile Virus.  
This research has allowed the commission to develop a mapping tool known as the Grouse Priority Siting Tool, which identifies prime grouse locations: the young forest habitat they prefer, low risk of West Nile Virus and "source" grouse populations nearby. Not only is the tool helping land managers help the grouse population bounce back, it may also aid the resurgence of other declining species who need similar habitat — bear, turkey and songbirds. 
One of Pennsylvania's most damaged areas of hemlocks are in the Alan Seeger Natural Area in Rothrock State Forest in Huntingdon County.
One of Pennsylvania's most damaged areas of hemlocks are in the Alan Seeger Natural Area in Rothrock State Forest in Huntingdon County.
Big picture 
While the future of hemlocks, brook trout, ruffed grouse and other native species is challenged amid climate change, steps are being taken to bring the path forward into clearer focus. 
One of those steps is a collaborative project called the Pennsylvania Natural Heritage Program. It's a partnership among state agencies, including DCNR, and the nonprofit Western Pennsylvania Conservancy, in cooperation with the U.S. Fish and Wildlife Service. Seltzer described the research project as a "climate change connectivity analysis which identifies land across Pennsylvania that, if appropriately managed to remain intact, is most likely to facilitate the movement of organisms through healthy habitat as the climate changes." 
In other words, animals, trees and plants as they adapt to climate change — may shift, creep or migrate across forest districts or state lines in search of ideal living conditions. The program would serve as a roadmap for those movements within Pennsylvania. Similar to a highway system for nature, it's connected to the larger-scale Nature's Network project, facilitated by the U.S. Fish and Wildlife Service. In total, it maps out habitats and ecosystems stretching across 13 states, pulling wildlife resources from state and federal agencies, nongovernmental organizations and universities.  
"Everyone in forest health across the country has the same goal in mind," Altemus said, "so the cooperation is pretty outstanding." 
Part 2: Warmer, wetter weather is creating the perfect storm of ingredients for ticks to thrive and for Lyme disease to spread. That is sparking innovative research in Pennsylvania. 
Editor's Picks