Chesco residents deal with tainted water after Sunoco drills into aquifer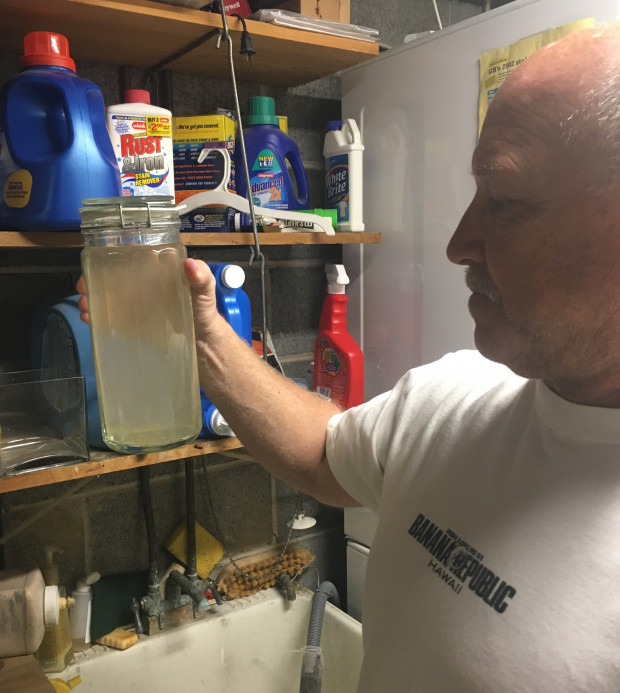 Jon Hurdle / StateImpact PA
The first Dan Rich knew of it was when he came home from work last Wednesday, and found his water cloudy and discolored.
"It was like vegetable broth," said Rich, a resident of West Whiteland Township, Chester County, where Sunoco Pipeline is drilling a horizontal tunnel to build its planned Mariner East 2 pipeline underneath some of Philadelphia's densely populated western suburbs.
Like his neighbors, Rich gets his water not from a public system but from a private well that draws on an aquifer that was punctured in recent weeks by the drilling. The incident has raised residents' doubts about whether the previously pristine water is safe to drink, bathe in, or use for laundry.
After discovering his tainted water, Rich contacted a Sunoco representative who was already dealing with similar complaints from his neighbors along Valleyview Drive. They were all supplied with pallets of bottled water, and offered the services of a local hotel where they could stay or shower until the water problem was fixed.

Rich said he thinks Sunoco was testing the water only for bentonite, a type of non-toxic drilling mud, but he said company representatives weren't clear about exactly what they would test for, and so he has decided to hire an independent water specialist to do a wide range of tests so that he can once again feel comfortable using his water.
"I will probably need a sample result from an independent laboratory that's non-biased to help me feel safe about me and my family to start consuming the water," Rich told StateImpact in an interview at his house on Sunday evening. "I'm saying I don't know that they are going to perform all the proper tests for health and safety. "
Rich said he and his family stayed Wednesday and Thursday nights in a local hotel at Sunoco's expense and then moved back into their house after the company installed a filtration system that allowed them to resume showering and doing laundry at home. But he said they won't drink the well water until they have independent confirmation that it's safe to drink.
Despite his concerns, Rich, who works in the propane delivery business, said he was satisfied that Sunoco had acted properly to respond to the water contamination.
"I don't think there's any more they can do to keep us happy," he said. "They didn't mean to hit the line. Things happen in the process of progress."
Jeff Shields, a spokesman for Sunoco, said Sunday that he expects test results to be available by the end of this week. For now, the company is supplying bottled water and installing filtration systems like that at Rich's house.
"The testing will help us rule out other causes," Shields said. "We will respond as if it is linked to the drilling until shown otherwise."
The company has said that about a dozen homes in West Whiteland and Uwchlan Townships have been affected by the water contamination.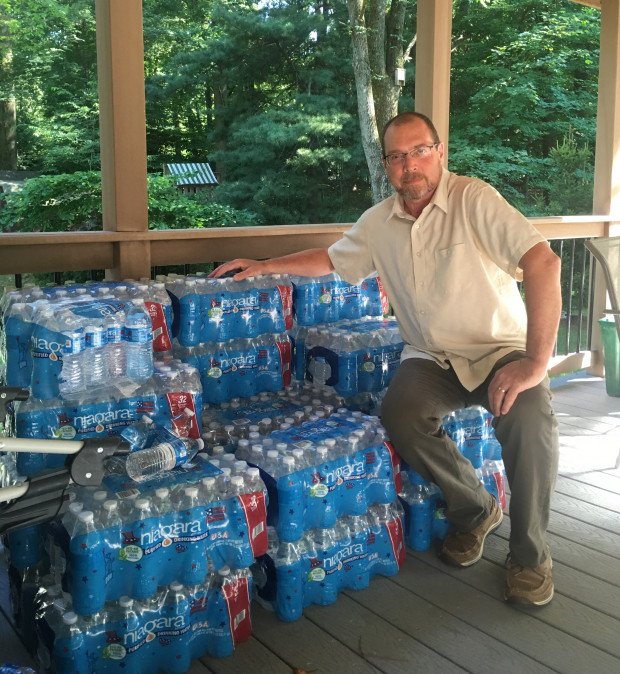 Jon Hurdle / StateImpact PA
On Saturday, Sunoco resumed drilling at a site near the intersection of Route 100 and Shoen Road – about a quarter mile in a direct line from Valleyview Drive — after halting the operation last Monday. The restarted operation came despite a request from the local state Senator, Andy Dinniman to stop work until the causes and effects of the water contamination are clearly understood.
Dinniman's chief of staff, Steve Grabicki, said the Senator spoke to a Sunoco official on Friday, urging a halt to the drilling. Grabicki said he didn't know how the official responded to the request at the time, but that it was apparently unsuccessful.
"If they restarted drilling, that's what their answer is," he said.
On Monday, Dinniman wrote to Sunoco, questioning its decision to restart drilling on Saturday after saying publicly that it would take about a week for the test results to become available.
"You tell the residents it's going to take a week to get the results back," Dinniman said. "The next day, to the best of our knowledge, without the test results you start the drilling again but you publicly state that you're awaiting the test results that are going to help us resolve the issues. So where are the test results? Did you get them done in a day or was your initial comment a puff kind of a comment? I don't see how you get them back in a day."
Dinniman also asked Sunoco to state whether there has been lasting damage to the aquifer at West Whiteland, and to ensure that other aquifers would not be damaged during the construction of Mariner East 2.
The Department of Environmental Protection has said that it is aware of the water problems and is investigating, but directed all questions to the company.
The affected homes are a few hundred yards from a site where Sunoco is conducting horizontal directional drilling (HDD) which will allow it to build the pipeline some 150 feet underground.
The company's plan to build underground rather than in a shallow trench helped Benjamin Eckert to sign an easement that allows the pipeline to run underneath his property at the intersection of Valleyview and Township Line roads.
"A lot of our agreement came from the fact that they were not going to dig a big trench through our front yard. They were going to drill underneath us," Eckert said.
He said he is "not thrilled" about pipelines but believes they are the safest way of transporting materials like the natural gas liquids that will be carried by Mariner East 2.
"If the petroleum products and gases are coming out of the ground, I'm sure they are going to go to market, and if they go to market, I want them to do that in the safest way possible," Eckert said. "I believe that's in a pipeline rather than in a train car or a truck."
Eckert, 54, said he and his wife and 10-year-old son showered in a local hotel for the first three nights after discovering their water was discolored on Wednesday. On Saturday, they bathed at a relative's house, and expected to do the same on Sunday evening.
Like some of his neighbors, Eckert has arranged for independent water tests, and said Sunoco had agreed, after some negotiation, to pay for the extra testing.
"It's for peace of mind," he said. "I just don't want to be showering in and drinking water that I know has been compromised."
Since publicly acknowledging the water problems, Sunoco has been very responsive, Eckert said, but he remains troubled by the company's apparent failure to immediately disclose that its drilling had punctured the local aquifer.
Eckert said he had heard that the incident happened more than two weeks before the company acknowledged it.
"What concerns me most is because I'm getting information that they punctured the aquifer over two weeks ago, and water flowed back out of the drilling equipment, and it took them a lot to stop it," Eckert said. "They didn't send us a postcard to say 'Hey, let us know if anything is wrong with your water.'"
Sunoco's Shields said the company responded to the water-contamination reports as soon as it heard them from residents last Monday.
Mariner East 2 will carry propane, butane and ethane from the Marcellus Shale of southwestern Pennsylvania some 350 miles to Marcus Hook near Philadelphia where most of it will be exported. Construction began in February and is due to finish in the third quarter of this year.
David Mano, another resident of Valleyview Drive, discovered his water was "light brown and full of sediment" when he drew a sample directly from his well on Wednesday. Mano, who held up a bottle of the discolored water to show a reporter, has a filtration system that he said most of his neighbors don't have, and which may have blocked the contamination.
Since then, he and his fiancée, Diane Salter, have been drinking and cooking with bottled water, and bathing at local hotels.
Even with his filter system, Mano said he's not taking any chances with his water, and, like some neighbors, is ordering independent tests, if necessary at his own expense.
He said an early test by his plumber had found some unidentified bacteria, and he didn't know the source of it.
Mano, 57, a service agent for a marina, said Sunoco's testing for bentonite is insufficient even if the material is otherwise used only for cat litter and facial makeup.
"You want me to drink cat litter and women's foundation makeup in my water?" he said. "I don't think so."
This story has been updated with material on Senator Dinniman's letter to Sunoco.
Editor's Picks